2022.08.10 (Wed)
Print
To Prime Minister Kishida: Inherit the will of Shinzo Abe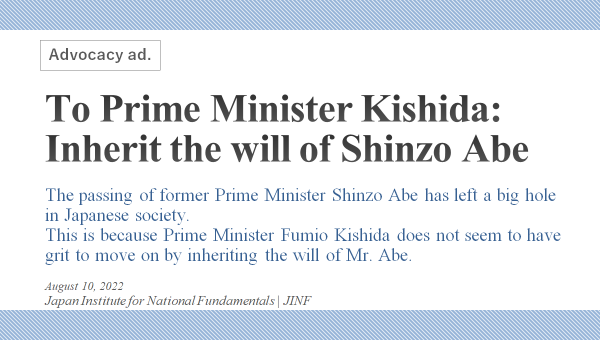 Japan Institute for National Fundamental (JINF) placed an advocacy ad proposing Prime Minister Kishida inherit the will of Shinzo Abe in three major national dailies, Nikkei, Sankei and Yomiuri, on Wednesday, August 10.
Below is a translation of the ad.
To Prime Minister Kishida:
Inherit the will of Shinzo Abe
The passing of former Prime Minister Shinzo Abe has left a big hole in Japanese society. This is because Prime Minister Fumio Kishida does not seem to have grit to move on by inheriting the will of Mr. Abe.
We remember that Mr. Abe resolutely called on the country to make a break with the "postwar regime" and that he had the peace and security legislation passed, notwithstanding a sharp decline in his administration's approval ratings. Mr. Abe also pursued his security and foreign policies under the lofty banner of a free and open Indo-Pacific strategy, while, on the domestic front, he strenuously prioritized economic growth. It goes without saying that Mr. Abe's ultimate goal was to revise the Constitution — the root cause of the postwar regime.
The nation understood it as evidenced by the large number of people who mourned his passing and attended his funeral.
Japan is in an emergency now that it is surrounded by nuclear weapons states China, Russia and North Korea. The latest defense white paper described the current security environment as the "greatest trial since WWII." As such, the policy of keeping Japan as a lightly armed economic power as envisioned by a now-useless old document is no longer utterly viable. That is certainly why Prime Minister Kishida has promised the United States that Japan will substantially increase its defense spending.
Prime Minister Kishida should now exert himself to realize the departure from the postwar regime as advocated by Mr. Abe, thus filling the big hole left by the passing of Mr. Abe. We propose that Prime Minister Kishida realize the Abe policies while keeping abreast with the times.
Joining in this advocacy ad are, besides JINF President Yoshiko Sakurai and Vice President Tadae Takubo, members of the JINF as follows: (in Japanese alphabetical order)
Katsuhiko Takaike, Yoshito Ogura, Takashi Arimoto, Toru Igarashi, Hironobu Ishikawa, Takashi Ito, Kazuhiko Inoue, Kiyohumi Iwata, Shohei Umezawa, Yujiro Oiwa, Fumio Ota, Yasuo Ohara, Kunio Orita, Nobuyuki Kaji, Hiroyasu Kato, Hideaki Kaneda, Minoru Kitamura, Seiji Kurosawa, Yukio Goto, Masanori Kondo, Mamoru Sato, Yoichi Shimada, Shiro Takahashi, Akihiko Tatebayashi, Hideo Tamura, Ryutaro Tsuchida, Taikin Tei, Yasushi Tomiyama, Tadashi Narabayashi, Osamu Nishi, Tsutomu Nishioka, Kazuyoshi Hanada, Hidehiro Hamaya, Izumi Hayashi, Yoshifumi Hibako, Sukehiro Hirakawa, Hayaru Fukuda, Miki Fuchibe, Koichi Furusho, Hiroshi Furuta, Masahiko Hosokawa, Akira Momochi, Yoshihiko Yamada, Taro Yayama, Hiroshi Yuasa, Toshio Watanabe.