2017.05.23 (Tue)
Print
Japan-India Bilateral Dialogue and Japan-India-U.S. Trilateral Dialogue
    The Vivekananda International Foundation (VIF) of India organized a Japan-India bilateral dialogue on February 16, 2017, and a Japan-India-U.S. trilateral dialogue on February 17, with think-tank researchers and former senior government and military officials taking part. Four members of the Japan Institute for National Fundamentals (JINF) and four members of the U.S.-based Hudson Institute were invited to visit New Delhi to participate in the dialogues. JINF was represented by Yasushi Tomiyama, a JINF Planning Committee member, who headed the JINF team; Seiji Kurosawa, secretary general of JINF, Hiroshi Yuasa, a JINF Planning Committee member; and Yoichi Shimada, a JINF Planning Committee member. Two of them attended the Bilateral Dialogue on Japan-India Relations.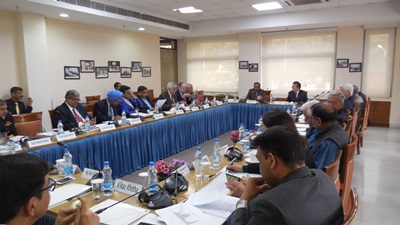 Participants in the Bilateral Dialogue on Japan-India Relations, held on February 16, confirmed the importance of cooperative relations between Japan and India in light of the situation in the Indo-Pacific region and deliberated on concrete proposals for forging a framework for furthering bilateral cooperation.
    Tomiyama, a JINF Planning Committee member, made presentations in two sessions — the first one on "Geo-strategic Challenges in the Indo-Pacific" and the second one on "The Indo-Pacific Economic, Industrial and Technological Cooperation." Commenting on Tomiyama's remarks, an Indian participant said Japan and India should clarify their policies to counter China's "One Belt, One Road" transnational initiative.
    Then, in the third session on "Strengthening India-Japan Strategic Cooperation --- addressing the Maritime Challenges," Kurosawa, secretary general of JINF, served as moderator and was the first to speak. As he emphasized the importance of maintaining the rule-based maritime order, a retired admiral of the Indian Navy recommended that Japan and Indian deploy their naval vessels to the seas where "freedom of navigation" operations need to be carried out as a way of ensuring the maritime order.
    On February 17, representatives of Japan, India and the United States, attending the Trilateral India-Japan-U.S. Dialogue, exchanged opinions on what the three countries could specifically contribute to ensuring regional security while respecting each other's national interests. After India's Foreign Secretary S. Jaishankar delivered a keynote address, Yuasa, a JINF Planning Committee member, said the Japanese administration of Prime Minister Shinzo Abe is determined to ask U.S. President Donald Trump to initiate an "Act West" policy as the U.S version of the "Act East" policy Indian Prime Minister Narendra Modi has been pursuing. A U.S. speaker gave an optimistic view on the Trump administration, saying the new president is likely to eventually go in the right direction. But, in sharp contrast, members of the audience expressed skepticism towards the new U.S. administration.
    Shimada, a JINF Planning Committee member, touched on the existence of legal constrains in Japan on the government's efforts to make greater contributions to ensuring the regional security. As he stressed the necessity to revise the Constitution of Japan, an Indian participant expressed surprise to learn that there were such constitutional constraints.
    In his closing remarks, retired General Nirmal Chander Vij, Director of VIF, said the trilateral dialogue reaffirmed the importance of cooperation among Japan, India and the United States, all of which shares values and have influence in the Indo-Pacific. He added it is important for the three countries to continue trilateral dialogues.
    VIF, which organized the bilateral and trilateral dialogues, is a think-tank named after Indian spiritual leader Swami Vivekananda (1863-1902). It is considered to have an influence on the Modi administration. JINF and VIA have been collaborating since 2013 when the two institutes worked on a joint study titled, "Framework for Indo-Japanese Partnership and Cooperation."
    For the JINF delegates to the dialogues, it was a fruitful visit as they also had opportunities to have separate meetings with Indian scholars outside the dialogues and a former national security advisor to an Indian prime minister with whom JINF has been keeping in touch.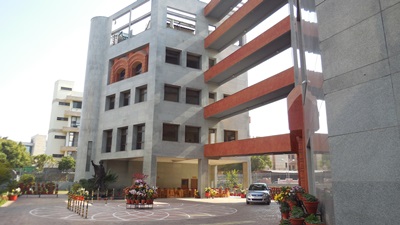 Following are the summaries of presentations the JINF members made to the bilateral and trilateral dialogues as well as discussions that followed: