2015.10.14 (Wed)
Print
70Years after World War Ⅱ How Should We Cope with the Tectonic Shift in the Global Geopolitics?
     Japan Institute For National Fundamentals (JINF) held the Japan, US, India& China International Symposium at the Yomiuri Otemachi Hall, Tokyo, on December 25, 2014.
     Taking part in the symposium were, Ms.Yoshiko Sakurai, president of the JINF, Dr. Tadae Takubo, vice-president of the JINF, Dr. Arthur Waldron Professor, University of Pennsylvania, Dr. Brahma Chellaney Professor of Strategic Studies, Centre for Policy Research,India, and Professor Shi Yinhong of Renmin University of China was absent from the symposium, but sent a written report to the symposium.
     The fact that the post-World War II international order has been dramatically transformed. The United States still retains power as the global superpower.However, they have become more and more introverted—spiritually speaking—whereas China,
for its part, has gained momentum in terms of military, economic and financial capabilities—they are pursuing an expansionist policy under the banner of the so-called Chinese Dream. Such asymmetrical changes regarding the two powers have been causing a really dramatic turnaround in the international order. This shift is the greatest post-WWII crisis not only for Japan but also for India and other countries in Asia. Against this background, we decided to organize this symposium with the participation of intellectuals from the United States, India, China and Japan.
CLICK HERE(PDF full text)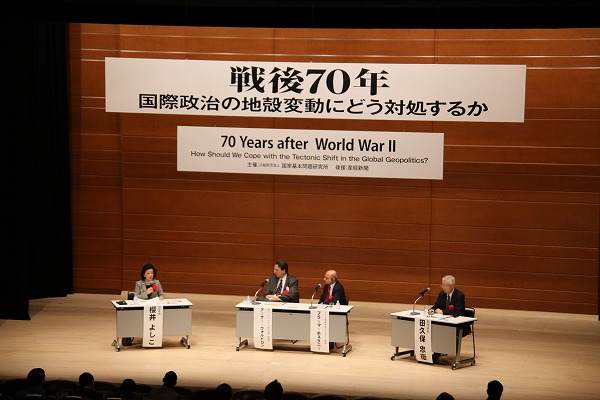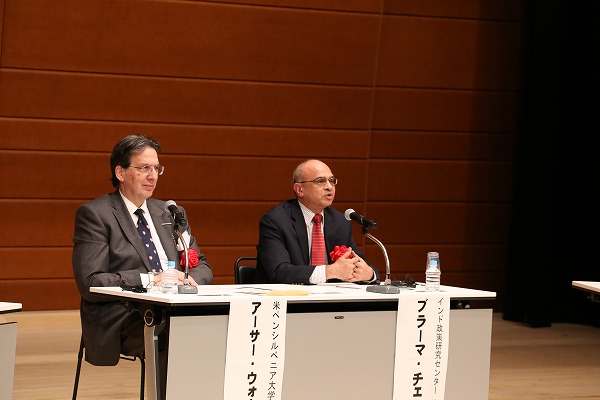 Left : Dr.Arthur Waldron professor,University of Pennsylvania
Right: Dr.Brahma Chellaney professor of Strategic Studies,Center for Policy Research,India