2022.03.04 (Fri)
Print
"The Situation in Ukraine from the Polish Perspective"
Mr. Paveł Milewski, Ambassador Extraordinary and Plenipotentiary of the Republic of Poland to Japan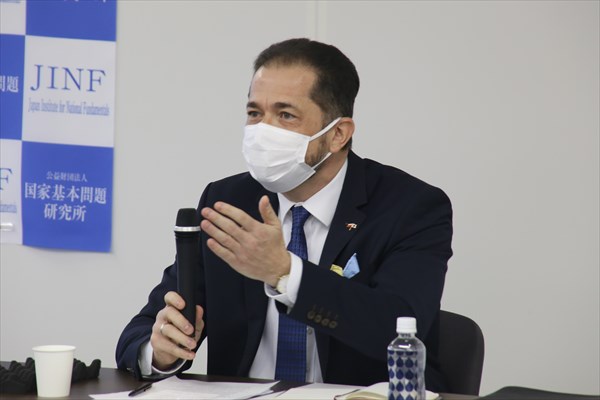 【Outline】
At the beginning of his speech, he introduced a news report that the Russian military invasion of Ukraine has reached the nuclear power plants.
The geopolitical environment of Poland: Poland is a NATO member country bordered by Russia, Belarus, and Ukraine. It was attacked by Nazi Germany and the Soviet Union during the last World War and is under constant threat from Russia today. It is similar to Japan, where the threats of China, North Korea, and Russia are right around the corner.
The following is an analysis of President Vladimir Putin's perception.
Domestic factors: It is reasonable for Mr. Putin to create and attack foreign enemies in order to strengthen his domestic political base. One of the reason why Putin feels insecure and wants to wage war against Ukraine is looking for an enemy who will unite Russia and bolster his popularity or legitimacy. He is not necessarily very popular in Russia, but views reuniting Ukraine as a way to gain popularity. However, the current invasion shows that the morale of soldiers is low, and anti-war demonstrations are taking place domestically, indicating a decline in his popularity more.
Foreign factors: How does he view other countries? UK is anti-EU due to Brexit, Germany is energy dependent and friendly to Russia, and US President Biden is more dovish than Trump and pulled out of Afghanistan. The West would be seen as weak now.
Personal factor: it is not surprising that the president would want to accomplish the historic project of reviving a great Russia at the age of 70.
Current situation: Approximately one million refugees have fled Ukraine, half of them to Poland, and Polish border guards are doing their utmost to assist them. Poland was also the first country in the EU to ban Russian airlines from passing through its airspace. Since then, similar measures have been extended throughout the EU and to the United States. Economic sanctions have also been imposed, and the exclusion of Russia from SWIFT is taking effect.
Expectations for Japan: I appreciate that Japan has announced its participation in economic sanctions and acceptance of refugees. I'd like to ask for more active support, including a ban on the passage of airspace. Now is the time for the international community to unite in the fight against lawless aggressors. We must not let today's Ukraine become tomorrow's Taiwan and Japan.
【Short CV】
Ambassador was born in 1975. He is a sinologist, graduated from the Faculty of Modern Languages at Adam Mickiewicz University in Poznan. From 1996 to 97 he studied at the Capital Pedagogical University in Beijing, and from 1997 to 98 at Xiamen University. From 2002 to 03, he completed Postgraduate Studies in Foreign Trade at the College of World Economy of the Warsaw School of Economics.
In 1999, he started his career of the Ministry of Foreign Affairs. In 2003-09 as the Second Secretary / First Secretary / Counsellor at the Embassy of Poland in PRC. In 2011, he became the Deputy Director at the Department of Asia and the Pacific. From 2013 to 17 he held the position of Ambassador of Poland to the Commonwealth of Australia with additional accreditation to the Independent State of Papua New Guinea. From 2017 to 19 Director of the Asia-Pacific Department at the Ministry of Foreign Affairs, from 2019 Ambassador Extraordinary and Plenipotentiary of the Republic of Poland to Japan.
Responsible for the text is JINF