2022.03.04 (Fri)
Print
Prime Minister Kishida must make a major change in Japan's national defense policy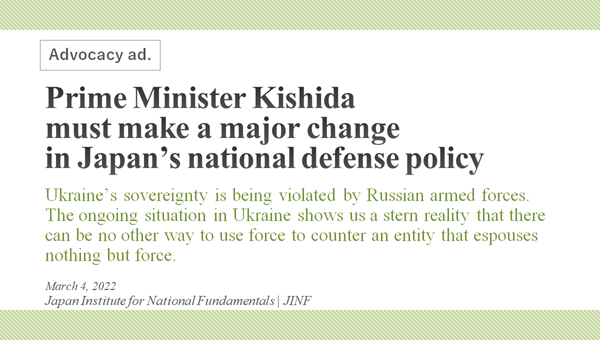 Japan Institute for National Fundamental (JINF) placed an advocacy ad proposing Prime Minister Kishida to make a major change in Japan's national defense policy in three major national dailies, Nikkei, Sankei and Yomiuri, on Friday, March 4.
Below is a translation of the ad.
Prime Minister Kishida must make a major change in Japan's national defense policy

Ukraine's sovereignty is being violated by Russian armed forces. The ongoing situation in Ukraine shows us a stern reality that there can be no other way to use force to counter an entity that espouses nothing but force.
Facing Russia's threat, Germany — which, like Japan, was defeated in World War II — has reversed its longstanding policy of avoiding becoming militarily strong, deciding to raise defense spending above 2% of GDP. In a related development, Switzerland, a permanently neutral state, Sweden, Finland and Norway have announced their commitment to assistance to Ukraine, including weapons.
Japan faces China's threat. To protect Japan's sovereignty at all costs, we must revise the Constitution that prohibits the country from maintaining armed forces and rules out the right of belligerency of the state. We demand that the Kishida administration adopt the following policy goals, pending the revision of the Constitution:
Boost defense spending above 2% of GDP
Enhance offensive capabilities, including intermediate-range missiles
Review the country's three non-nuclear principles to realizing "nuclear sharing" with the U.S.
Joining in this advocacy ad are, besides JINF President Yoshiko Sakurai and Vice President Tadae Takubo, members of the JINF as follows: (in Japanese alphabetical order)
Katsuhiko Takaike, Yoshito Ogura, Kazuhiro Araki, Takashi Arimoto, Toru Igarashi, Hironobu Ishikawa, Takashi Ito, Kazuhiko Inoue, Kiyohumi Iwata, Shohei Umezawa, Yujiro Oiwa, Fumio Ota, Yasuo Ohara, Kunio Orita, Hiroyasu Kato, Hideaki Kaneda, Minoru Kitamura, Seiji Kurosawa, Yukio Goto, Masanori Kondo, Tadashi Saito, Mamoru Sato, Yoichi Shimada, Shiro Takahashi, Akihiko Tatebayashi, Hideo Tamura, Ryutaro Tsuchida, Taikin Tei, Yasushi Tomiyama, Tadashi Narabayashi, Osamu Nishi, Tsutomu Nishioka, Kazuyoshi Hanada, Izumi Hayashi, Koichiro Bansho, Yoshifumi Hibako, Sukehiro Hirakawa, Hayaru Fukuda, Koichi Furusho, Hiroshi Furuta, Masahiko Hosokawa, Akira Momochi, Yoshihiko Yamada, Taro Yayama, Hiroshi Yuasa, Toshio Watanabe